Marketing in the 21st century can be a challenge due to the sheer number of options available to the average customers and the information technology boom. Standing out as a marketer against the competition can be difficult. A thorough understanding of Key Performance Indicators for Marketers in 2019 can go a long way. Keeping your marketing strategies in check especially when you need to present the facts and figures to the executives in your organization is crucial.
Top Seven Marketing KPIs in 2019
1. Sales Growth
Sales growth is the ultimate goal of any business looking to make a profit. The best way to judge the success or failure of your marketing strategies is by looking at sales growth as sales revenue. This will not always be an easy task as sales revenue is influenced by many factors at play however this is one KPI that each and every business must consider while looking at its marketing KPIs.Involving your employees by sharing sales revenue will go a long way to ensure transparency and instill a sense of ownership within the workforce towards united goals for the company.
2. Leads
All of the sales opportunities are directly proportional to the number of leads generated via marketing efforts. This is what makes tracking leads to a crucial activity when looking at KPIs. Marketing qualified leads are especially important to marketers as they are more likely to convert into a potential customer. An example of this would be a user on your website who is downloading a free e-book which goes to show that they are more likely to convert to customers than another user who is merely browsing the article/website. Another important metric to look at is the Lead to Close ratio which is the number of leads received by a company compared divided by the actual number of lead closed in a specific period of time.
3. Lifetime Value of a Customer (LTV)
A customer's value to your organization is a great way to evaluate your company's ROI. This information comes into play while strategizing future business goals. In order to calculate your lifetime value of a customer (CTV), you will need to figure out the sales generated by the average customer. This may vary depending on the product or services offered by your company. For example, if your company is a B2B offering business automation services then  
LTV= Revenue X Gross Margin X Avg # of Repeat Purchases*
For example, your company sells automation services for $20,000. The revenue on the sale of the service is $20,000. Your gross margin on the product is 30%. Assuming that this is a one time purchase, the LTV would be:
LTV= $20,000 (Revenue) x 35% (Gross Margin) = $7,000
* If the customer purchases the automation service again for five years, renewing it each year then the LTV would be
LTV= $20,000 (Revenue) x 35% (Gross Margin) = $7,000 x 5 = $35,000.
4. Cost of Customer Acquisition (COCA) 
Customer Acquisition Cost or the Cost of Customer Acquisition is essentially the cost invested to convince the customer or client to purchase the goods or services offered by an organization. It would be the total amount spent on sales and marketing in a month divided by the number of new customers closed.
This would serve as an asset while allocating funds for the marketing and sales budget according to the prospective growth plan of your company. A better understanding of your COCA is an important KPI for marketers to focus on in order to self evaluate not just the present scenario of their performance but also to plan future marketing initiatives and investments.
5. Website Traffic to Website Leads Ratio
Website is a great way to create a first impression. The question is how much of this first impression continues to create a long-lasting brand image in the customer's mind. Of all your website visitors, how many actually get converted to become leads. Your website traffic quality, as well as your conversion rate from the website, is an important KPI to consider as a marketer. The goal is to increase website traffic to conversion ratio by focusing on website design, products, CRM as well as payment channels to ensure a smooth customer experience.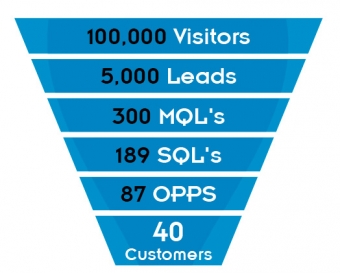 Knowing your customer is a great way to start and improve this ratio. Where are they from and what do they do once they land on your website. This information will equip you to correctly anticipate a customer's wants and needs and market your product to fill the unmet needs that they seek. Website traffic can be further narrowed into users, sessions, page views, average session duration, page per session and bounce rate. Landing pages with the correct information and a Call To Action (CTA) is a great way to capture a customer's attention.
6.Blog Performance
Blog posts are a powerful traffic driving source if used correctly. It will bring traffic to your website via social media and email lists. The frequency of publishing is just as important as content quality and length. This will slowly impact search engines and your blog posts would start showing up in search results for the keywords that you are targeting. Blog posts are also a great way to show your customers your expertise in the products/ services you provide by creating content, reviews, and opinions around the topic of your niche. Monitoring your blog performance in terms of traffic, average reading time per post, likes, shares, and comments is a good way to gauge your customers and their interests. 
7. Social Media Reach and Engagement
Social media is one of the most powerful tools that help you interact with your customers and add value to them. Distributing your product reviews, blogs on social media is a great sales and marketing strategy. This is why it is crucial to evaluate your social media reach and engagement as a marketing KPI. The amount of organic engagement on Facebook, Instagram, and Twitter in terms of likes, comments, shares as well as followers is an important KPI for any organization. Using social proof in terms of good reviews and rating is a great way to convert leads to real customers. Social media sites now have their own analytics tools and insights to help you track your growth and engagement.
Bonus
The Forever Friend: Email Marketing 
Email marketing has always been a cornerstone in connecting to your customers on a one-on-one basis. Analyzing your email marketing strategy is an important KPI and would include evaluating the delivery rate, open rate, click-through rate, the conversion is an unsubscribes rate as well as forwards and shares. Clear and crisp emails with carefully designed content and graphics can influence the customer to open, read as well as go further and re-visit your website. Email marketing is especially important during sales, discount offers as well as in tackling cart abandonment by sending reminders into your customer's inbox.
If you can track it, you can improve it. Tracking your KPIs is only the first step but coming up with strategies to constantly improve them with trial and error marketing campaigns is the key to figuring out what works best for your organization and your target customer base. Here is another useful article on marketing KPIs.
If you liked this article then be sure to stay subscribed to Wyzebulb Blog as we are dedicating a series of upcoming blog posts focusing on KPIs.